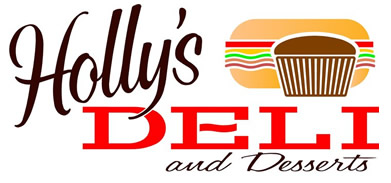 Eat Better... Feel Better!
Our Story So Far...
"Holly's Deli and Desserts was founded purely on the love of creating quality food, and is truly a labor of love. The most rewarding part of cooking and baking is the satisfaction that others get when eating my creations."


Holly (founder, Holly's Deli)

Holly's Deli began life in 2008, with the sole purpose of promoting and supporting fresh local produce, and producing the highest quality deli meal experience. The word spread fast about the quality of food, and Holly's Deli is proud to have developed a strong relationship with the local community.

In 2010 Jon and Jennifer Hartman, local restauranteurs, joined the Holly's Deli family, and as new owners continued the traditions of a delivering a passion for food that shows on every plate.

Jennifer and Jon have expanded the business to its current point, and are looking forward to many more years to come, delivering the very best deli experience to locals and visitors, and delivering high quality catering services to the business community.
Real Customer Reviews